Consumer who purchase any of the Tamron lens mentioned below will get a FREE selected Eureka Drybox. The Eureka Drybox has to claim from DSC World's website.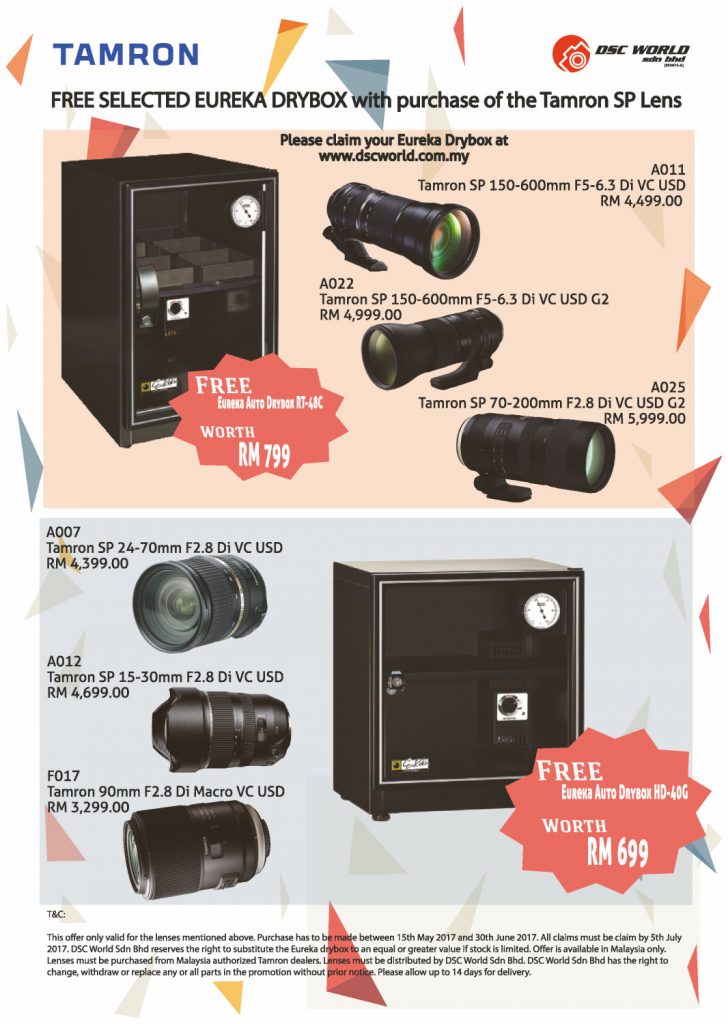 Duration: 15th May – 30st June 2017
FREE Eureka RT-48C with these lenses
SP 70-200mm F2.8 Di VC USD G2
SP 150-600mm F5-6.3 Di VC USD G2
SP 150-600mm F5-6.3 Di VC USD
FREE Eureka HD-40G with these lenses
SP 15-30mm F2.8 Di VC USD
SP 24-70mm F2.8 Di VC USD
SP 90mm F2.8 Di Macro VC USD F017
How consumer claim from DSC World?
Step 1: Log in to DSC World website
Step 2: Click on the banner in the home page (you may refer to the image named Banner_1) **The banner and claim form will be up by 15th May
Step 3: Key in claim form then submit, the customer will receive a confirmation email
Step 4: Please allow 14 days of delivery (DSC World will in charge of the delivery)
Terms and Conditions
1. This offer only valid for the lenses mentioned above.
2. Purchase has to be made between 15th May 2017 and 30th June 2017.
3. All claims must be claim by 5th July 2017.
4. DSC World Sdn Bhd reserves the right to substitute the Eureka drybox to an equal or greater value if stock is limited.
5. Offer is available in Malaysia only.
6. Lenses must be purchased from Malaysia authorized Tamron dealers.
7. Lenses must be distributed by DSC World Sdn Bhd
8. DSC World Sdn Bhd the right to change, withdraw or replace any or all parts in the promotion without prior notice.
9. Please allow up to 14 days for delivery.