Nikon Malaysia I AM SALAM AIDILFITRI PROMO Consumers Campaign Announcement
The promotion period is 1st June 2017 – 30th June 2017
Model
1+1 Year Extended Warranty
Consumers Campaign
D750 Kit & Body
√
Not Applicable
D610 Kit & Body
√
D500 Body
√
Free 1x PROSTAFF 7s 8×42 + Nikon 100th Anniversary T-Shirt
(online redemption only)
D7200 Kit & Body
√
Free 1x AF NIKKOR 50mm f/1.8D + 1x Nikon 100th Anniversary T-Shirt
(online redemption only)
D7100 Kit & Body
√
D5600 18-140mm Kit, 18-55mm Kit & Body
√
Free 1x AF-P DX 70-300mm f/4.5-6.3G ED VR + Nikon 100th Anniversary T-Shirt (online redemption only)
D5300 18-140mm Kit, 18-55mm Kit & Body
√
Free 1x SB-300 Speedlight + EN-EL14a + Nikon 100th Anniversary T-Shirt
(online redemption only)
D3400 Kit & Body
√
Free 1x SB-300 Speedlight + Nikon 100th Anniversary T-Shirt
(online redemption only)
Nikon 1 J5 Body, 10-30mm PD Kit & Double Zoom Kit
√
Not Applicable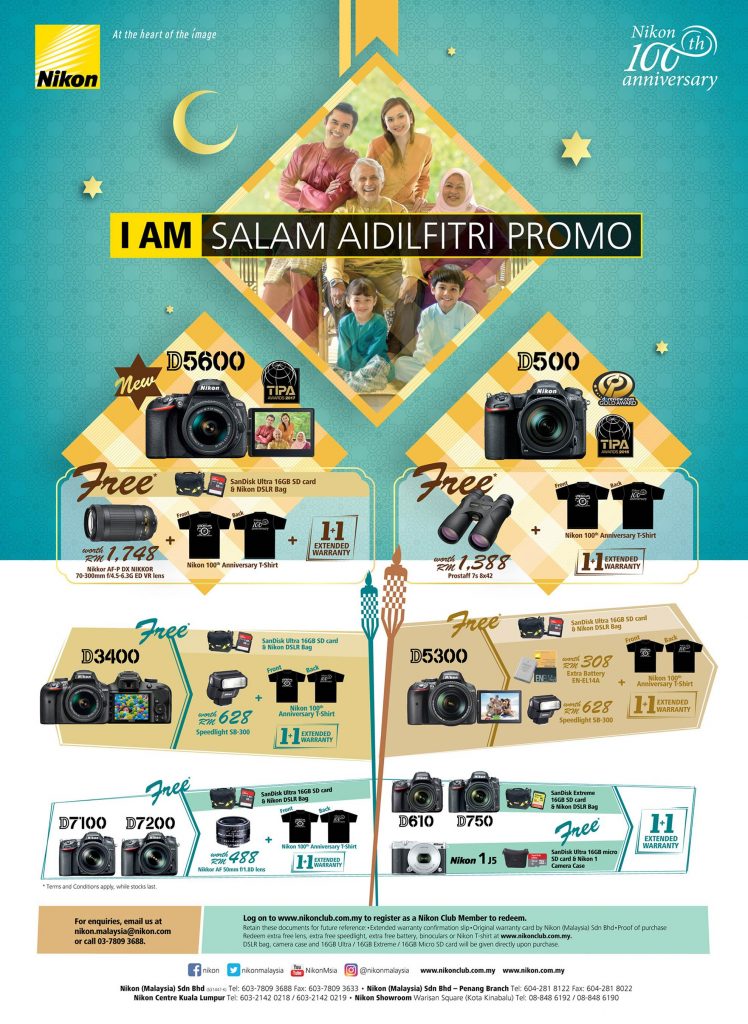 Terms & conditions as below:
1. To redeem the free PROSTAFF 7s 8×42 Binoculars, AF NIKKOR 50MM F/1.8D lens, AF-P DX 70-300mm f/4.5-6.3G ED VR, EN-EL14a Battery, SB-300 Speedlight, , Nikon 100th Anniversary T-Shirt and the 1+1 Year Extended Warranty ("EW"), customers need to register as a Nikon Club member via https://www.nikonclub.com.my.
2. Customer needs to submit the proof of purchase (i.e. purchase receipt) in order to redeem the EW and all the FOC items to consumer.
3. This promotion is valid for Nikon D750/ D610/ D500/ D7200/ D7100/ D5600/ D5300/ D3400/ Nikon 1 J5 and their respective body/kit combinations, purchased during the period 1st June 2017 – 30th June 2017 only.
4. Online redemption of EW and all FOC items to consumers closes on 11:59pm, 7th July 2017. Late registration will not be entertained.
5. The promotion (purchase & delivery of all the FOC items) is valid within Malaysia only.
6. Delivery of all the FOC items will send directly from Nikon (M) Sdn Bhd to end user's address only.
7. The camera purchased must be an original Nikon Malaysia warranty set. Grey sets will not be entertained.
8. By providing the required information, customers hereby consent to Nikon Malaysia in processing personal data for this promotion and any other Nikon Malaysia marketing promotion in accordance to the Personal Data Protection Act 2010 (PDPA).
For full notice of the PDPA, please visit website: https://www.nikonclub.com.my/pages/Terms.aspx
9. This promotion is subject to stock availability and on first-come-first-serve basis.
10. This promotion is not exchangeable with any form of cash or any other products.
11. Nikon (Malaysia) Sdn Bhd reserves the right to revise the terms & conditions of this promotion when necessary without any prior notice.