Nikon Malaysia I AM Prosperous Promo – 1st Jan – 28th Feb 2018  (1st Jan – 28th February 2018) Consumers Campaign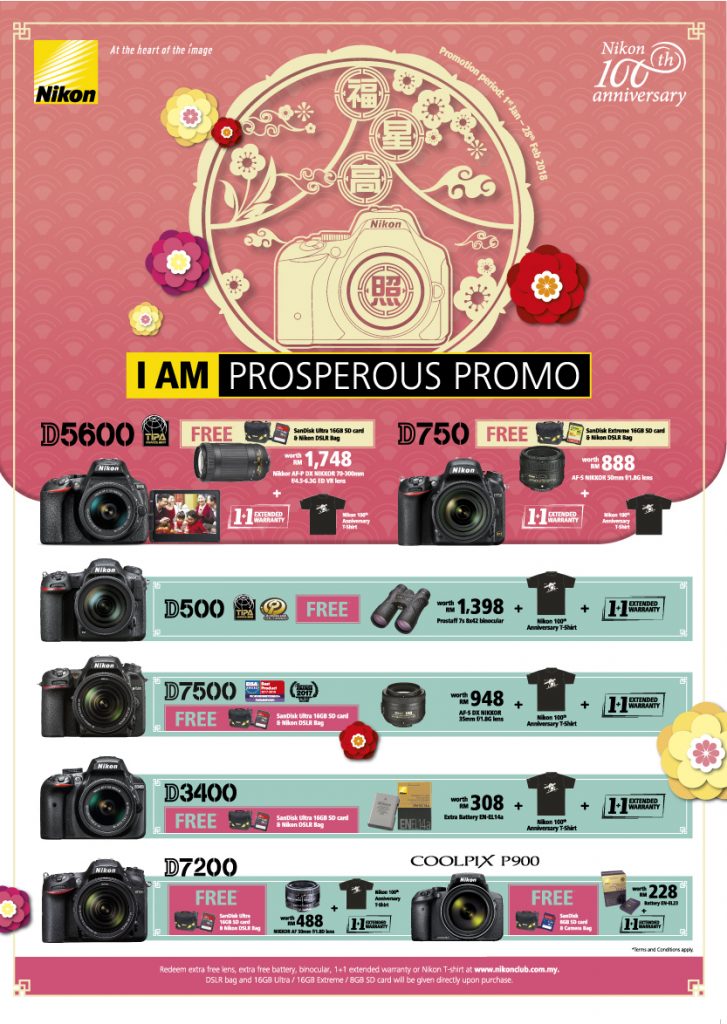 Model
1+1 Year Extended Warranty
Consumers Campaign
D750 Kit & Body
√
Free 1x AF-S 50mm f/1.8G + 1x Nikon 100th Anniversary T-Shirt

(online redemption only)

D500 Body
√
Free 1x Nikon Prostaff 7s 8×42 Binocular + Nikon 100th Anniversary T-Shirt
(online redemption only)
D7500 Kit & Body
√
Free 1x AF-S DX 35mm f/1.8G + Nikon 100th Anniversary T-Shirt

(online redemption only)

D7200 Kit & Body
√
Free 1x AF 50mm f/1.8D + Nikon 100th Anniversary T-Shirt

(online redemption only)

D5600 18-140mm Kit, 18-55mm Kit & Body
√
Free 1x AF-P DX 70-300mm f/4.5-6.3G ED VR + Nikon 100th Anniversary T-Shirt

(online redemption only)

D3400 Kit & Body
√
Free 1x EN-EL14a battery + Nikon 100th Anniversary T-Shirt

(online redemption only)

COOLPIX P900
√
Free 1x EN-EL23 Battery
(online redemption only)
 Nikon Malaysia Redemption Program ("NMRP")
Terms & Conditions:
By registering in Nikon Club website (www.nikonclub.com.my), you acknowledge and agree that Nikon Malaysia may use your Account name and password for all valid business purposes it deems appropriate, including, without limitation, to (a) access and update your Account information and records, and/or (b) assist you with applying for extended warranty or redeeming products which is offered by Nikon Malaysia.
Nikon Malaysia reserves the right to amend, modify or cancel the promotion/campaign at any time, with or without notice.
Subsidiaries/Business Partner/Dealers are strictly NOT allowed to participate in NMPR Campaign.
By participating in this promotion, customers are bound by the terms and conditions herein contained.
You are required to submit your product redemption online via www.nikonclub.com.my.
The camera purchased must be an original Nikon Malaysia warranty set and it's NOT valid for grey set.
It is a condition that you are responsible for retaining information relating to the proof of date of purchase (ie. Purchase Receipt/Tax Invoice/Nikon Malaysia Warranty Card), which is required in order for Nikon Malaysia to fulfill the product redemption.
You are only eligible for product redemption if the transaction dates in the proof of purchase (ie. Purchase Receipt/Tax Invoice) falls within the said promotion period.
This promotion is valid for NikonD750/ D500/ D7500/ D7200/ D5600/ D3400/ COOLPIX P900 and their respective body/kit combinations, purchased during the period 1st January – 28th February 2018 only.
Online redemption of EW and all FOC items to consumers closes on 11:59pm, 7th March 2018. Late registration will not be entertained.
Each serial number is valid for single redemption (free gift) only according to the promotion. Duplicate claim will be rejected.
Please retain your proof of purchase (ie. Purchase Receipt/Tax Invoice) to apply for Extended Warranty or Product Redemption.
Product Redemption or/and

Product redemption is applicable for customers in Malaysia only.
The delivery of free gifts is valid for address in Malaysia only and strictly no P.O. Box delivery.
The redemption product(s) will be delivered to you within 7 to 21 working days upon approval. For smoother process, kindly ensure all the required details and documents are complete.
The redeemed free product is non-refundable and non-exchangeable for cash or any other gift/products.
This promotion is always subject to stock availability on a first-come-first-served basis.
The decision of Nikon (Malaysia) Sdn Bhd is final and binding; no appeal shall be entertained for any reason whatsoever.
Nikon Malaysia is committed to maintain the security of your personal information and data in accordance with the requirements of the Personal Data Protection Act 2010. For full privacy policy, please visit https://www.nikonclub.com.my/pages/Terms.aspx