Greetings from Canon Marketing Malaysia!
We are pleased to announce the March 2020 Consumer Promotions for EOS-some Spring – R Deals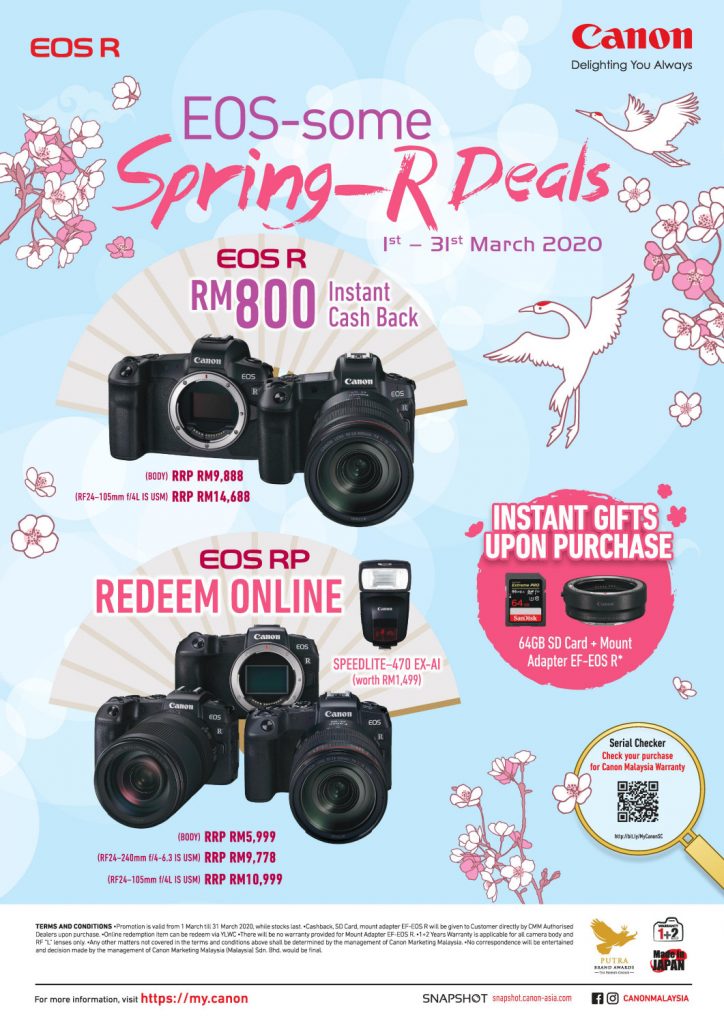 Kindly find below the details and promotion duration as well as promo Terms & Conditions as attached for your reference.
Model
Instant Cash Back
Redeem Online
Free Items
EOS R (Body)
RM 800
–
64GB SD EXTREME PRO
+
Mount Adapter EF-EOS R
EOS R (RF24-105 USM)
EOS RP (Body)
–
SPEEDLITE 470 EX-AI
EOS RP (RF24-105 USM)
EOS RP (RF24-240 USM)
Terms & Conditions
This program is valid from 1st March 2020 until 31st March 2020 or while stocks last.
2. Instant Cashback claim will be based on Profit2u sell thru. All claims should be made based on genuine sell-thru. Business Partners are required to submit printed Invoice/Receipt via Profit2u Portal. Customer Name, Contact Number and Serial number must be stated on the Invoice/Receipts. CMMSB reserved the right to request for more documentations to verify the sell-thru.
3. Speedlite 470EX-AI must be redeemed online through YLWC (https://ylwc.canon.com.my) with proof of purchase.
64GB SD Card and Mount Adapter EF-EOS R will be given upon purchase.
5. For Instant Cashback, Distributors are allowed to claim only under their outlets sell-thru, NOT for their distribution to CEP.
6. Profit2u submission deadline : 14th April 2020
In the event that any form of foul play has been detected or brought to CMM's attention, CMM reserve the right to disqualify and nullify all claims submitted by business partner/ Counterman.
Any other matters pertaining to this campaign but not covered in the Rules and Regulations stated above, shall be determined by the management of Canon Marketing (Malaysia) Sdn. Bhd. No correspondence will be entertained and decision made by the management of Canon Marketing (Malaysia) Sdn. Bhd. would be final.