Sony has released a new firmware update for its A7II, A7RII, A7SII, A6300 and A6500 mirrorless cameras.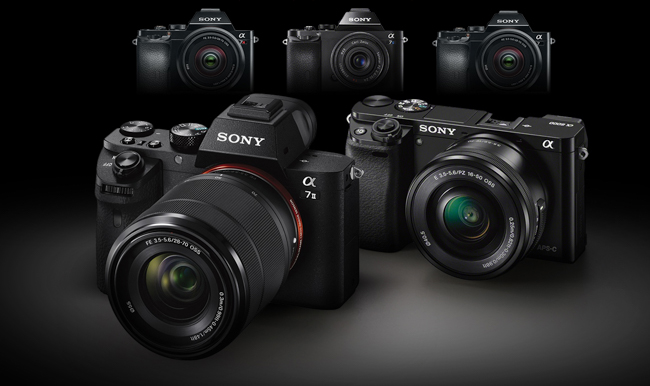 The firmware version 4.0 for Sony A7II and A7RII includes several improvements and fixes. Sony A7SII upgraded to version 3.0.
Sony released firmware updates with lots of new functions including FE 100-400mm GM OSS support, better overheating control, improved Flexible Spot AF function, improves release time lag when wireless flash is used, adds "Live View Display" custom button assignable support and visible light LED assist with external flash for AF (HVL-F45RM) on a7II, a7RII, a7SII,and wait for it….a "star-eater" fix for a7RII.
Sony FE 100-400mm GM OSS support (a7II, a7RII, a7SII, a6300, a6500)

Better overheating control (a7II, a7RII, a7SII, a6300)

Improved Flexible Spot AF function (a7II, a7RII, a7SII)

Improved release time lag when wireless flash is used (a7II, a7RII, a7SII)

Adds "Live View Display" custom button assignable support (a7II, a7RII, a7SII)

Adds Visible light LED assist with external flash for AF with HVL-F45RM (a7II, a7RII, a7SII)

"Star-eater" Long Exposure NR fix for (a7RII)
List of Improvements:
Sony a7RII and a7SII
Adds "Auto Pwr OFF Temp." function(*)
(*)If the same part of your skin touches the camera for a long period of time while using the camera, even if the camera does not feel hot to you, it may cause symptoms of a low-temperature burn such as redness or blistering.
Pay special attention in the following situations and use a tripod, etc.

When using the camera in a high-temperature environment
When someone with poor circulation or impaired skin sensation uses the camera
When using the camera with the [Auto Pwr OFF Temp.] set to [High]

Improves operability of the camera:

Improves operability when AF area is set to flexible spot
Refer to here for details.
Adds "Live View Display" into custom button assignation
Adds "Set File Name" function

Supports visible light LED in external flash for AF (HVL-F45RM)
Improves release time lag when wireless flash is used
Optimizes exposure algorithm during focusing when [Live View Display] is [Setting Effect OFF]
Improves image quality when Long Exposure NR setting is OFF
Improves overall stability of the camera
Sony a7II
Improves operability of the camera:

Improves operability when AF area is set to flexible spot
Refer to here for details.
Adds "Live View Display" into custom button assignation
Adds "Set File Name" function

Supports visible light LED in external flash for AF (HVL-F45RM)
Improves release time lag when wireless flash is used
Improves overall stability of the camera
Sony a6500
Supports new lens "SEL100400GM"
Optimizes image stabilization performance in movie mode
Sony a6300
Adds "Auto Pwr OFF Temp." function(*)
(*)If the same part of your skin touches the camera for a long period of time while using the camera, even if the camera does not feel hot to you, it may cause symptoms of a low-temperature burn such as redness or blistering.
Pay special attention in the following situations and use a tripod, etc.

When using the camera in a high-temperature environment
When someone with poor circulation or impaired skin sensation uses the camera
When using the camera with the [Auto Pwr OFF Temp.] set to [High]

Supports new lens "SEL100400GM"
Modifies aspect of guide frame display in LCD (2.35:1 mode)
Improves overall stability of the camera
Download Links:
Sony a7II FW 4.00: MAC | WIN
Sony a7RII FW 4.00: MAC | WIN
Sony a7SII FW 3.00: MAC | WIN
Sony a6500 FW 1.03: MAC | WIN
Sony a6300 FW 2.00: MAC | WIN
Source:
https://briansmith.com/sony-releases-a7ii-a7rii-a7sii-a6300-a6500-firmware-updates/